GRANDSTREAM GAC2500 6 SIP accounts and 6 lines,7-way voice
Roll over image to zoom in
Click to open expanded view
৳ 44,550.00
Brand: GRANDSTREAM
Model: GAC2500
6 lines, 6 SIP accounts, 7-way voice conferencing
4.3″ (800×480) Touch Screen
Built-in 7-way Conference Bridge
Runs Android 4.4
GRANDSTREAM GAC2500 6 SIP accounts and 6 lines,7-way voice
Grandstream GAC2500 Networks Android Enterprise Conference Phone features with 6 SIP accounts and 6 lines, 7-way voice conferencing, Runs Android 4.4 and offers full access to the Google Play Store and all Android apps, such as Skype, Google Hangouts and more, Bluetooth to support syncing of headsets and mobile devices, Built-in 7way conference bridge, 4.3″ (800×480) capacitive touch screen for easy use, Autosensing Gigabit port, built-in PoE support, Built-in WiFi support offers mobility and network flexibility, Full HD audio support to maximize voice quality, Daisy-chain support to combine two GAC2500 together, TLS and SRTP security encryption. This conference phone is designed with transform your business conferencing experience through its immersive audio conferencing environment and suite of advanced features. It Redefining audio conferencing, the GAC's 6 lines, WiFi and Bluetooth compatibility, HD Audio, Gigabit network ports and Android operating system with touch screen enhances the way users will meet and work together. Easily connect any time, using the GAC's 7-way conference bridge. the GAC supports a productive experience with the GAC2500's call scheduler, AndroidTM operating system and Google Play Store access. This Android Enterprise Conference Phone comes with 01 year warranty.
An ideal conference solution that delivers a modern design paired with HD audio and a suite of productivity-focused features. The Android-based GAC2500 offers access to features and functionality not traditionally found in conference phones.
The GAC2500 is an Android-based Business Conference Phone that will redefine the choices, flexibility and mobility available in any workplace. It supports up to 6 lines and 6 SIP accounts while also offering access to the Google Play Store in order to hold conferences through Android applications. This Business Conference Phone offers a variety of mobility options by supporting Bluetooth for audio pairing and data syncing with mobile devices, as well as WiFi for wireless calling/conferencing in any location. A 7-way conference bridge allows the GAC2500 to easily create and hold a conference at any time and the 4.3" touch screen with familiar Android interface offers easy use. This Android Enterprise Conference Phone also offers daisy chain support. By combining all of these features, the GAC2500 offers a foundation that gives any business the choice and flexibility to customize their conference phone based on their communication needs.
Features:
Runs Android 4.4 and offers access to the Google Play Store; Create custom Android apps
Auto-sensing 10/100/1000mbps network port
Built-in Bluetooth for syncing headsets and mobile devices
Built-in PoE+ to power the device and give it a network connection
WiFi support offers mobility
Supports 6 SIP accounts and 7-way voice conferencing
HD audio to maximize audio quality
4.3 inch (800×480) capacitive touch screen
TLS and SRTP security encryption technology to protect calls and accounts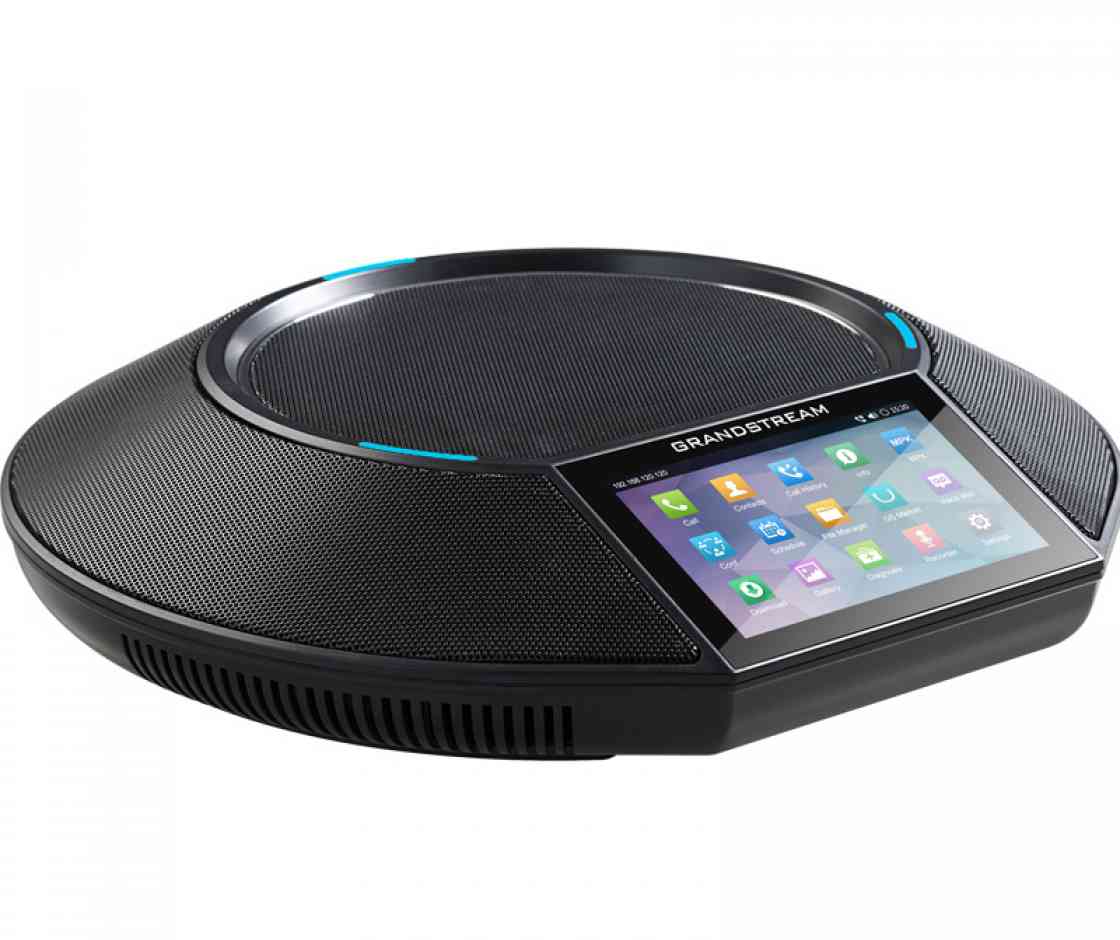 Additional information
Protocols/Standards

SIP RFC3261, TCP/IP/UDP, RTP/RTCP, HTTP/HTTPS, ARP, ICMP, DNS (A record, SRV, NAPTR), DHCP, PPPoE, SSH, TFTP, NTP, STUN, SIMPLE, LLDP, LDAP, TR-069, 802.1x, TLS, SRTP, IPV6 (pending), OpenVPN (pending)

Network Interface

Auto-sensing Gigabit Ethernet port with integrated PoE+ (IEEE 802.3at Class4)

Graphic Display

4.3" IPS LCD with 800×480 resolution

Mic

3 cardioid microphones; 12 ft. pickup distance, 360° capture

Speakerphone

Frequency: 220-18,000 Hz
Volume: Up to 86 dB at 0.5 meter
Audio full duplex

Bluetooth

Yes, integrated. Bluetooth 4.0

Wi-Fi

Yes, integrated. 802.11 b/g/n

Auxiliary Ports

3.5mm audio port, USB Micro-B, RJ48 daisy chain port

HD Audio

Yes, speakerphone with support for wideband audio

QoS

Layer 2 QoS (802.1Q, 802.1p) and Layer 3 (ToS, DiffServ, MPLS) QoS.

Security

User and administrator level passwords, MD5 and MD5-sess based authentication, 256-bit AES encrypted configuration file, TLS, SRTP, HTTPS, 802.1x media access control

Physical

Unit dimension:280mm(W) x 285mm(L) x 60mm(H) Unit weight:1.34kg; Package weight: 2.35kg

Temperature and Humidity

Operation: 0°C to 40°C Storage: -10°C to 60°C Humidity: 10% to 90% Non-condensing