GRANDSTREAM GXP2170 12-LINE ENTRY LEVEL IP PHONE POE, COLOR DISPLAY
Roll over image to zoom in
Click to open expanded view
৳ 16,500.00
Model: GXP2170
5 Soft Keys & 5-Way Voice Conferencing
6 SIP accounts, 12 lines
Integrated PoE
Call history up to 200 record
GRANDSTREAM GXP2170 12-LINE ENTRY LEVEL IP PHONE POE, COLOR DISPLAY
Grandstream GXP2170 IP Phone
Grandstream GXP2170 IP Phone comes with 6 SIP accounts, supports 12 lines, 5 soft keys, 5-way conferencing, with 4.3 inch (480×272) color-screen LCD Display. In this IP Phone, users are served with the fastest possible connection speeds with dual Gigabit and PoE network ports. The GXP2170 also provides up to four GXP2200EXT Modules for 48 digital, on-screen speed dial/BLF keys access, to up to 160 contacts By using this IP Phone, you can enjoy crystal clear HD audio and utilize its maximized call control, expandable speed dial/BLF capabilities. Maximize your productivity with essential supported features such as 5-way conferencing. Together, these features make the GXP2170 an easy-to-use and effective Basic IP phone. It is also featured with state-of-the-art security encryption technology (SRTP and TLS). The GXP2170 supports a variety of automated provisioning options, including zero-configuration with Grandstream's UCM series IP PBXs, encrypted XML files and TR-069, to make mass deployment extremely easy.
The Grandstream GXP2170 comes with 01 year of warranty.
Our most powerful High-End IP Phone, designed for the high-call volume user who requires a suite of call control and efficiency focused features. Bring heavy communications under control by utilizing the GXP2170's high-line access, BLF/speed-dial support and other control focused features.
Grandstream GXP2170 High-Volume Enterprise IP Phone

The GXP2170 is a powerful enterprise-grade IP phone that is ideal for busy users who handle high call volumes. This top-of-the-line Enterprise IP Phone features up to 12 line keys/line appearances and 6 SIP accounts using a 4.3 inch (480 x 272) color display LCD and full HD audio. It includes up to 48 digital, on-screen speed dial/BLF keys to help users be more productive and efficent. The GXP2170 supports the fastest possible connection speeds with dual Gigabit network ports, features integrated PoE and includes built-in Bluetooth for syncing with mobile devices and Bluetooth headsets. This Enterprise IP phone can connect to up to four GXP2200 EXT modules with LCD display to access up to 160 speed dial/BLF contacts. The GXP2170 is the perfect choice for enterprise users looking for a top-notch executive IP phone with advanced functionality.

Features:

12 dual-color line keys (with 6 SIP accounts), 5 XML programmable context-sensitive soft keys
5-way audio conferencing for easy conference calls
Dual-switched auto-sensing 10/100/1000mbps network ports
48 digitally programmable & customizable BLF/fastdial keys, and supports up to 4 cascaded GXP2200EXT Modules
Built-in Bluetooth for syncing headsets and mobile devices for contact books, calendars & call transferring
HD audio to maximize audio quality and clarity, full-duplex speakerphone
Built-in PoE to power the devices and give it a network connection
Supports EHS compatible Plantronics's headsets
Automated provisioning using TR-069 or AES encrypted XML configuration file
Built-in USB ports for importing/exporting data
TLS and SRTP security encryption technology to protect calls and accounts
Use with Grandstream's UCM series IP PBX appliance for Zero-Config provisioning, 1-touch call recording & more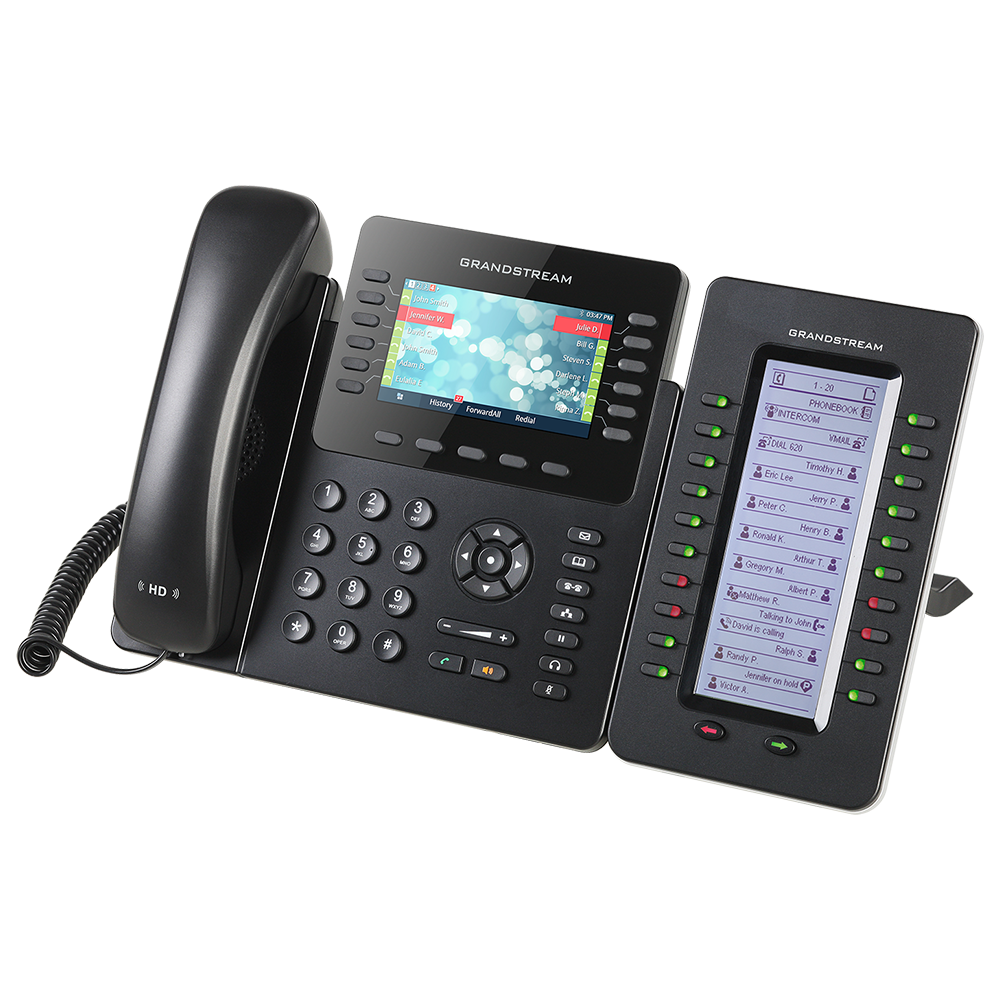 Additional information
| | |
| --- | --- |
| Protocols/Standards | SIP RFC3261, TCP/IP/UDP, RTP/RTCP, HTTP/HTTPS, ARP, ICMP, DNS (A record, SRV, NAPTR), DHCP, PPPoE, SSH, TELNET, TFTP, NTP, STUN, SIMPLE, LLDP, LDAP, TR-069, 802.1x, TLS, SRTP, IPV6, CDP/SNMP/RTCP-XR |
| Network Interfaces | Dual switched auto-sensing 10/100/1000 Mbps Gigabit Ethernet ports with integrated PoE |
| Graphic Display | 4.3 inch (480×272) TFT color LCD |
| Feature Keys | 12 line keys with up to 6 SIP accounts, 5 XML programmable context sensitive softkeys, 5 navigation/menu keys, 11 dedicated function keys for : MESSAGE (with LED indicator), PHONEBOOK, TRANSFER, CONFERENCE, HOLD, HEADSET, MUTE, SEND/ REDIAL, SPEAKERPHONE, VOL+, VOL |
| Voice Codecs | Support for G.729A/B, G.711µ/a-law, G.726, G.722(wide-band), G723.1, iLBC, Opus, in-band and out-of-band DTMF (in audio, RFC2833, SIP INFO) |
| Auxiliary Ports | RJ9 headset jack (allowing EHS with Plantronics headsets), USB, extension module port |
| Base Stand | Yes, 2 angle positions available, Wall Mountable |
| QoS | Layer 2 (802.1Q, 802.1p) and Layer 3 (ToS, DiffServ, MPLS) QoS |
| Security | User and administrator level passwords, MD5 and MD5-sess based authentication, AES based secure configuration file, SRTP, TLS, 802.1x media access control |
| Upgrade/Provisioning | Firmware upgrade via TFTP/HTTP/HTTPS, mass provisioning using TR-069 or encrypted XML configuration file, FTP/FTPS |
| Temperature and Humidity | Operation: 0°C to 40°C Storage: -10°C to 60°C Humidity: 10% to 90% Non-condensing |
| Package Content | GXP2170 phone, handset with cord, base stand, universal power supply, network cable, Quick Installation Guide, GPL license |
| Physical | Dimension: 228mm(W) x 206mm(L) x 46mm(H); Unit weight:0.98kg ; Package weight:1.43kg |