VIRDI AC7000 FACE FINGER &RFID AC-CESS CONTROL & TA
Roll over image to zoom in
Click to open expanded view
৳ 63,800.00
Brand: VIRDI
Model: VIRDI AC7000
Powerful 1.0GHz Processor
FingerPrint Templates: 500,00(1:1), 50,000(1:N)
Face Template: 50,000(1:1), 10,000(1:N)
Transaction Log: 10,000,000
VIRDI AC7000 FACE, FINGER &RFID AC-CESS CONTROL & TA
Internationally, Biometrics Product is the most suitable means of identifying and authenticating individuals in a reliable and fast way through unique biological characteristics. Virdi Biometrics is a leading provider of biometric identification technologies for enhancing identity management, improving logical and physical security, and increasing operational efficiency. VIrdi biometrics products include fingerprint scanners, facial authentication systems, iris scanners, digital signature pads, time & attendance systems, etc.
Virdi Biometrics Product Supplier in Bangladesh
Virdi Biometrics has supplied nearly 1000 units to Bangladesh Police Headquarters (HQ) in Dhaka city recently. In addition to this one more order has placed by Security Services in December 2014 for supplying another 500 pieces of BioMetric Products which will be completed very soon. A lot of government agencies especially Bangladesh Police are using ZKTeco Biometrics at three different levels – HQ level, District Level, and Upazila level to improve their security system. biometric products are widely used in Bangladesh Police for various purposes.
Main Featurs of VIrdi AC-7000
Powerful 1.0GHz Processor
FingerPrint Templates: 500,00(1:1), 50,000(1:N)
Face Template: 50,000(1:1), 10,000(1:N)
Transaction Log: 10,000,000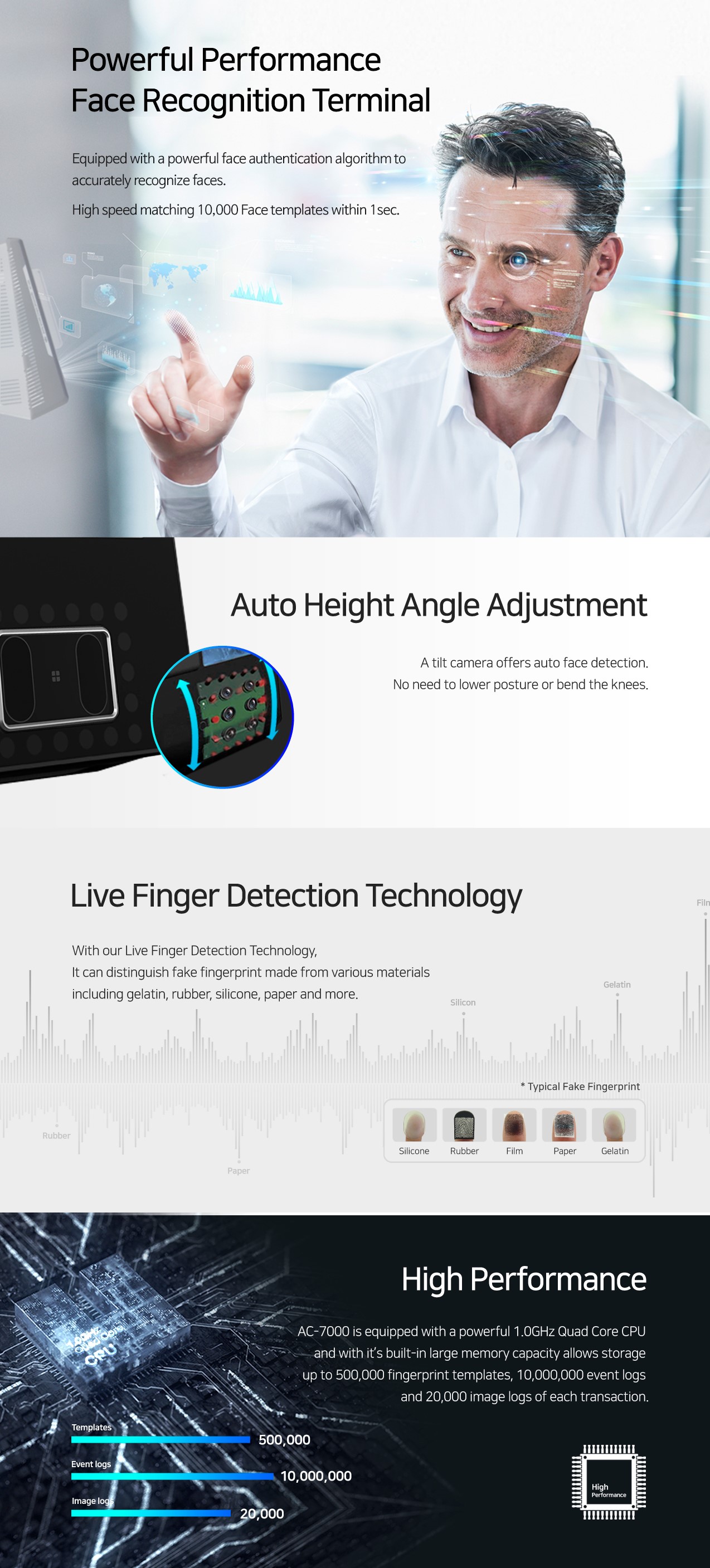 Additional information
Authentication Method

Biometric

Memory

Max Users 250,000(Finger)
10,000(Face)
Fingerprints
(Templates) FP:250,000(1:1)
25,000(1:N)
Face:10,000(1:1)
2,000(1:N)

Logs

10,000,000

Images

20,000

With Server

TCP/IP

Other

SD Card

Wireless LAN(Wi-Fi)

Optional

Wiegand OUT

O

RS232

O

RS485

O

Wiegand IN

O

Display

=

LCD

5″Color Touch

Backlight

O

Embedded Camera

Dual

Card

125khz-EM O
HID Prox Optional
HID iclass X
13.56MHz Smart Card O

Keypad

Touch Screen

Function keys

SOFT

Door Phone

Volp

FP Sensor

=

Platen Area

20.3 X 20.3 mm

Resolution

500 dpi

Authentication Speed

=

(1:1)

< 0.2 sec

1:N(1,000)

< 0.7 sec

Dimension

(W) X (H) X (D) mm 149.5 X 207.8 X 45.5
FRR /FAR 0.1% / 0.0001%
Operating Temperature -20 ~ 60℃